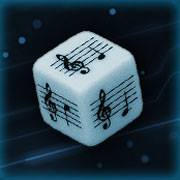 Meeting the spirits scene song
Creepy. Tak określiłbym muzykę z tego filmu. Niepokoi, jest tam gdzieś obok nas i wzmaga napięcie. Wystarczy dodać do tego opis ducha i jest atmosfera. Warto urozmaicić to jeszcze kontrastami, elementami symbolizującymi radość życia i to co przyczyniło się do śmierci. Utwór świetnie się bawi odgłosami, Gracze powinni sami dopowiadać skąd one nadchodzą.
The Crow – Her Eyes… So Innocent
Zaś do bardziej wzruszających, niż straszących scen…
Muzyka dla scen z duchami w zasadzie ma trzy ścieżki do wyboru – tajemnicza, wzruszająca i przerażająca. Warto dobierać ją tak, żeby nie stanowiła kontrastu do sceny, ale ją podkreślała.
https://www.grajkolektyw.pl/wp-content/uploads/2020/02/1393899_526855987402506_1524415432_n.jpg
180
180
Merry
https://www.grajkolektyw.pl/wp-content/uploads/2020/05/graj_pion_bialy.png
Merry
2018-03-21 17:15:51
2020-03-04 13:35:40
World of Darkness Song Challenge - Day 23