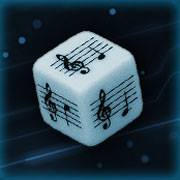 Day 17. Werewolf's first change scene song
Ten przełomowy moment Wilkołaka powinien mieć kopa. Enslaved nie słuchałem tyle, ale mają kilka dobrych kawałków, które dobrze zabrzmią na sesji o szamaniźmie, duchach i walce z upiorami oraz Beshilu. Polecam jeszcze Sigmundskvadet oraz The Sleeping Gods w ich wykonaniu, bardziej melodyczne, podobnie jak Frost. W połączeniu tych dwóch utworów można szczególnie nakreślić 2 stadia przemiany – to w którym bariera między światem materialnym i cieni załamuje się dla naszej postaci i dostrzegamy animistyczną stronę rzeczywistości oraz, wraz z wyciszeniem i 'Loke' gdy postać przybiera formę zwierzęcia i zaczna poddawać się szałowi. Wszystko dzieje się gwałtownie szybko, postać nie zdaje sobie sprawy ze skali zniszczeń do czasu aż się nie obudzi.
Frost, Enslaved, "03. Frost / 04. Loke"
Innym metalowym kawałkiem, który powinein znaleźć swoje miejsce ze względu na tekst i melodię jest utwór Type o Negative:
October Rust, Type O Negative, "13. Wolf Moon"
Wiadomo – przemiana jest różna od Patronatu. Zależnie od tego melodia możę być bardziej skierowana do duchów obserwujących przemianę, albo krwawej rozprawy z istotami wokoło.
https://www.grajkolektyw.pl/wp-content/uploads/2020/02/1393899_526855987402506_1524415432_n.jpg
180
180
Jaremu
https://www.grajkolektyw.pl/wp-content/uploads/2020/05/graj_pion_bialy.png
Jaremu
2017-01-23 16:05:57
2020-03-04 13:33:09
World of Darkness Song Challenge - Day 17.