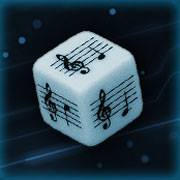 Ciekawostka na tej liście, ale warta uwagi ze względu na temat – warto podłożyć utwór pod antagonistę, który będzie zwiastował jego wejście na scenę. Gwarantuję Wam, że po kilku spotkaniach nawet najbardziej wesoła melodia zamiast uśmiechów wywoła u Graczy deklaracje odbezpieczania zamków w broniach. Przykładem:
"Together Again", Buck Owens, Hello Trouble
Drzwi otworzyły się, oznajmiając nowych klientów łagodnym dzwonieniem. Mike, podnosząc oczy znad białej filiżanki wypełnionej już zimną kawą, sięgnął pod stół i położył rękę na chłodnej, gładkiej powierzchni trzydziestki ósemki. Nie dowidział, zostawił przeklęte okulary u tej zdziry. Był jednak pewien, kto nadchodzi. Po obu stronach postaci idącej z przodu szli mężczyźni w znoszonych levisach i szaroniebieskich kurtkach dresowych. Gdzieniegdzie, na karkach i ramionach z podwiniętymi rękawami, widniały tatuaże Prawdziwej IRA. Przed nimi zaś, luźnym krokiem podążał uśmiechnięty jegomość po pięćdziesiątce. Wyprasowany szary garnitur leżał idealnie, wpasowując się w szarość pojawiającą się pośród ułożonych na żel nielicznych włosów. Jednakże Frank, oprócz tej pewności i klasy, ma zawsze dwie inne, wyróżniające go cechy. Uśmiech, pokazujący nienagannie białe zęby, 'po matce' jak mawiał. I pomarańczowy krawat na tle białej koszuli. Zawsze ten cholerny pomarańczowy krawat.
I w zasadzie jest to koniec New World of Darkness Song Challenge. Najważniejsze jest to, że większość muzyki zależy od sytuacji na sesji, ciężko o konkretny utwór pod scenę podsumowaną jednym słowem/zdaniem. Mam nadzieję, że innym podrzuciłem trochę pomysłów z biblioteczki.
Czołem!
https://www.grajkolektyw.pl/wp-content/uploads/2020/02/1393899_526855987402506_1524415432_n.jpg
180
180
Jaremu
https://www.grajkolektyw.pl/wp-content/uploads/2020/05/graj_pion_bialy.png
Jaremu
2019-09-05 08:13:28
2020-03-04 13:23:53
Day 30. Game Master's favourite NPC theme song