Dzielenie się takimi informacjami jest nad wyraz smutne. 22 stycznia 2018 odeszła Ursula K. Le Guin (88 lat). Doniesienia o śmierci autorki zostały potwierdzone przez jej syna. Nadal nieznane są przyczyny, wiadomo jednak, iż autorka od dłuższego czasu miała problemy ze zdrowiem. Znana w Polsce i na świecie dzięki serii fantasy Ziemiomorze (1964-2014) oraz "Lewej ręce ciemności" (1969) za którą otrzymała nagrody Hugo i Nebula.
Dla mnie to moment, kiedy sięgam w kierunku półki z książkami i cofam się w czasie o lata. Jedni zaczynali od Ziemiomorza, inni natomiast zapewne podobnie do mnie, trafiali na opowiadania wydawane przez Amber. Załączam tu zdjęcie trzech z nich, może dla niektórych to jedne z wielu – dla mnie na pewno stały się ważną częścią w początkach wędrówki po światach fantasy i sci-fi.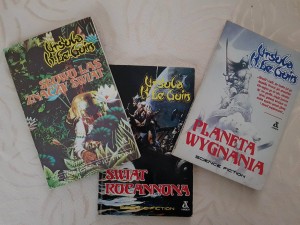 Jeśli chcielibyście przypomnieć sobie jej twórczość, posłuchajcie audycji Trzecie Oko, którą nagrał Błaż na podstawie opowiadania "Opowieść żony" Ursuli K. Le Guin.
0
0
Włodi
https://www.grajkolektyw.pl/wp-content/uploads/2020/05/graj_pion_bialy.png
Włodi
2018-01-24 11:45:16
2018-01-24 11:45:16
Nie żyje Ursula K. Le Guin